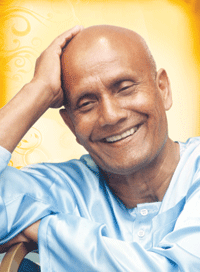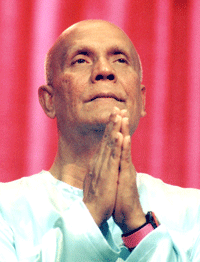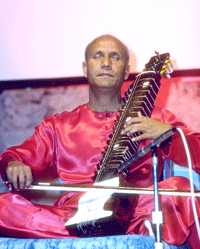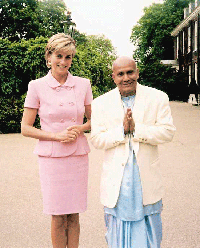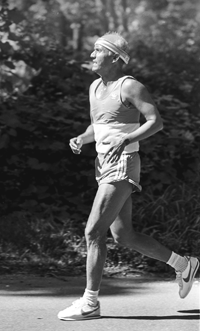 Hailed by Nelson Mandela as "a voice of reason that we all must heed,"
Sri Chinmoy (1931-2007) was an internationally acclaimed musician,
composer, artist, author and poet whose haunting melodies
captivated audiences worldwide.
In more than 700 Peace Concerts, offered in venues from Carnegie Hall
to the Royal Albert Hall, Sri Chinmoy celebrated in music and spirit
humanity's aspiration for inner and outer peace. During a four decade
long musical odyssey, Sri Chinmoy composed a monumental total
of 22,000 songs—an artistic and spiritual legacy for all humankind.
In New York City, where he made his home upon arrival from India in 1964,
Sri Chinmoy was an integral part of the musical fabric, forging friendships
with other musicians that transcended genres.
"What power is in this man's music!" exclaimed composer Leonard Bernstein
after a performance of a song Sri Chinmoy wrote in his honor, adding
"It's incredible. My musical spirit is very, very deeply impressed."
"Sri Chinmoy's sublime spiritual mastery reveals through music the infinite vastness of the universe as an intimate sanctuary of the soul."
- Free Spirit Magazine, U.S.A.
Producer and humanitarian Quincy Jones praised the innovation
and imagination of Sri Chinmoy's music, commenting
"Sri Chinmoy is such a brave musician! God puts his hands on
very few shoulders. It was definitely on Sri Chinmoy's shoulder,"
while compatriot and leading Indian musician of the modern era Ravi Shankar declared,"Sri Chinmoy has a tremendous, a fantastic creative urge!"
For Sri Chinmoy, music was more than art, entertainment or even self-expression
—it was language of the soul, a bridge from earth to heaven capable of dissolving
man-made barriers, closing gaps between cultures, faiths and nations.
Sri Chinmoy himself wrote, "Music is the universal language. We do not have to learn any particular language to communicate with others if we can play soulful music. Soulful music is next to meditation, and it carries the beauty and fragrance of silence, the message of the inner and higher worlds."
Related Links